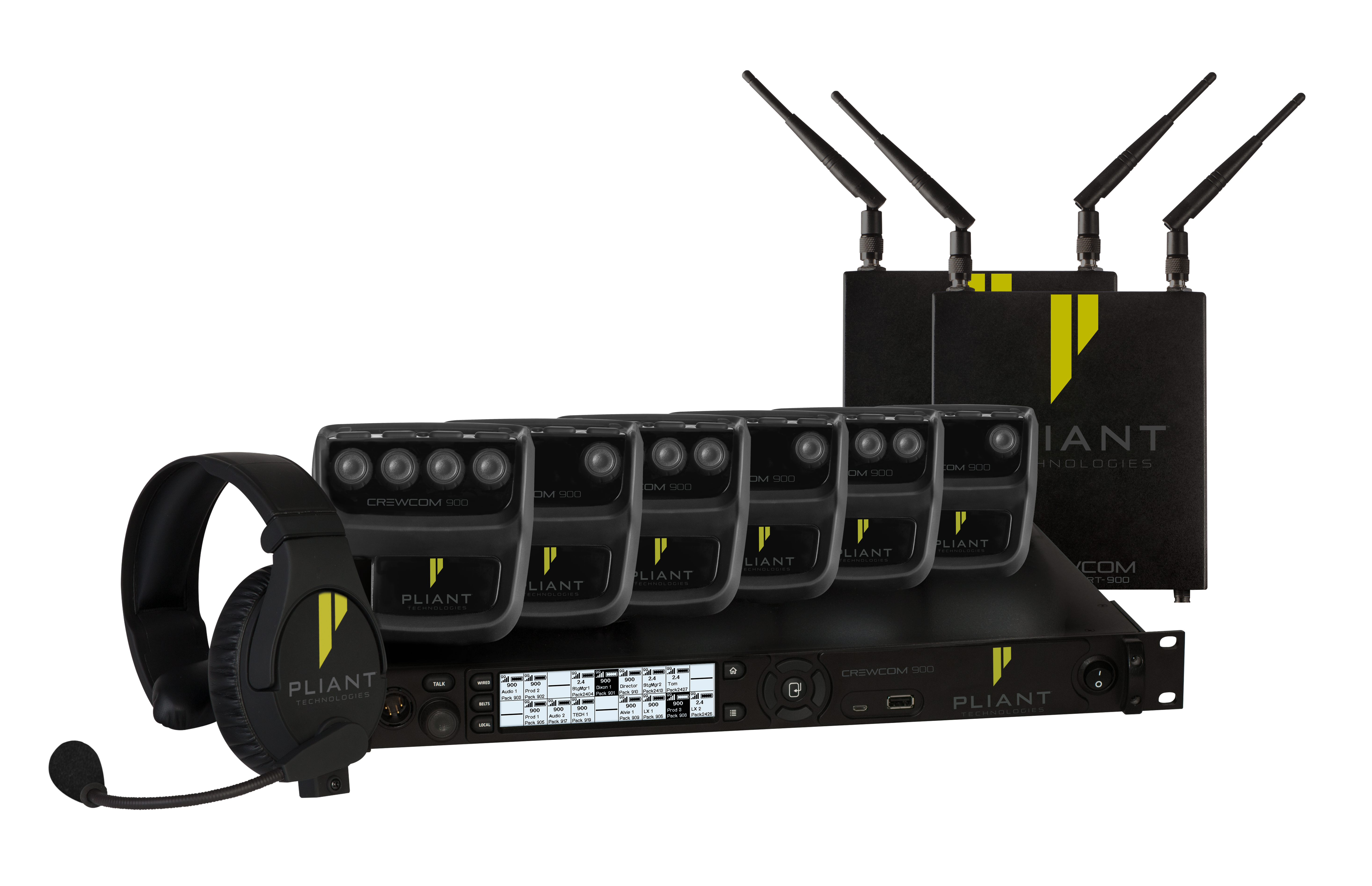 CrewCom Overview
CrewCom is a versatile yet straightforward communications solution built on an intelligent wireless and wired network-based distributed system architecture. Innovative technologies have been specifically developed to facilitate intercom system growth and effortless adaptation, along with unparalleled digital wireless reliability for consistent operation, even in the most demanding production environments.
Decentralized Network Architecture
The CrewCom system utilizes a proprietary network backbone, known as CrewNet™, to coordinate and transport all system timing, audio, signaling, and controls. This efficient, decentralized resource network delivers increased flexibility over that of traditional technologies, using a distributed network-to-device intelligence within a modular building block structure. System components can easily be placed where they are needed or scaled to facilitate system growth, reconfiguration, and effortless adaptation to changing environments. For increased infrastructure flexibility, the CrewNet network is capable of operating over standard Cat 5e (or greater) and/or Single Mode Fiber (SMF) connections.
Flexible RF Platform
CrewCom's RF platform is vast and flexible to meet the needs of virtually any wireless communication challenge facing production and entertainment professionals worldwide. Each CrewCom wireless product is available in the 2.4GHz and 900MHz (North America, Australia, and New Zealand only) ISM bands and any combination of these frequency ranges may be simultaneously used on the same CrewCom system. CrewCom makes it easy to operate in challenging RF environments by combining support for multiple simultaneous frequency bands, while also allowing for simple system setup without the need for an RF engineer.
In addition, a more robust RF link enhances RF range and reliability through a newly developed dual carrier double-send transmission scheme that minimizes the adverse effects of inter-symbol interference. This innovation allows increased useful RF range and improved performance, especially in large, reflective environments.
Intuitive User Experience
CrewCom's family of products is designed around a system architecture that offers a high density of users with a more manageable infrastructure and lower cost per user than typically found in large-scale wireless installations. The CrewCom system not only consists of a range of wired and wireless hardware products but also incorporates an intuitive software application, known as CrewWare, working together with the system hardware to enhance the experience of system administrators, designers, integrators, and users. Each device's user interface allows a quick learning curve with high functionality, and its ease of use is consistent across all frequency bands, types of users, and applications.
CrewCom Devices
The following is a list of available CrewCom devices. For more information on each of these products and their configuration capabilities, visit the specific device's overview pages linked below.
CrewWare
CrewCom includes CrewWare, a companion desktop software, to simplify the process of optimizing your CrewCom wireless system. CrewWare is used for monitoring and managing CrewCom wireless intercom systems. The software enables the user to create a CrewCom Configuration File (CCF) offline and then load the settings to your system from a portable USB drive or from a connected computer. CrewWare provides an intuitive method of accessing all connected CrewCom devices and their associated peripherals. CrewWare allows a user to adjust critical settings from the computer, and only requires connection to your existing computer or computer network.
See CrewWare for a summary of CrewWare's functions.