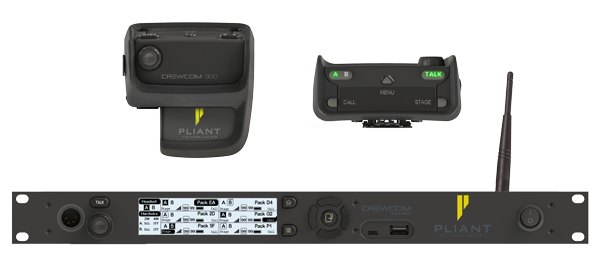 CB2 System Overview
The CrewCom CB2 BaseStation and CRP-12 Radio Pack are wireless products that, together, create an economical wireless intercom system. These products are available in both 900 MHz and 2.4 GHz frequency options as well as a 900 MHz Oceania and 2.4 GHz CE-compliant model. As a system, the two are capable of providing customers with up to two communication channels as well as direct interconnectivity to external 2-Wire and 4-Wire intercom systems.
For more information on each of these products and their capabilities, visit the specific device's overview pages.
CB2 BaseStation – The 1RU BaseStation that establishes the wireless intercom while also providing external connections to common established wired intercom systems. As a system, together with the Radio Packs, the BaseStation provides up to two communication channels. Devices are available in 900 MHz and 2.4 GHz ISM bands.
Radio Pack (RP) – The portable wireless communication device connecting individual CrewCom users to the CrewCom system. Each RP provides full duplex audio communications and, through customized function buttons, Stage Announce and Call capabilities. The RP requires a connected headset and pairing to the CB2 BaseStation. Devices are available in 900 MHz and 2.4 GHz ISM bands.
Firmware Updater Application
The CrewCom BaseStation and RP-12 system includes a companion desktop software for updating device firmware. See Firmware Updater Application  for more information.